The Pitt Pantry serves to increase food security among the Pitt community. Students (graduate & undergraduate), faculty, and staff are encouraged to visit the Pitt Pantry to supplement their nutrition with healthy foods at no cost.
Generally, common household items/toiletries, shelf-stable foods, fresh produce, frozen meats, and several other items rotate depending on availability. We purchase a majority of our food and household items from the Greater Pittsburgh Community Food Bank, as well as Amazon for items catered towards dietary restrictions such as Gluten-Free, lactose intolerance, Halal, etc. Donations make up a smaller portion of our inventory.
Pantry Shopper Information
All shoppers should bring multiple reusable bags (tote bags, insulated grocery totes, empty backpack, duffle bags, or small shopping strollers) to help carry heavy food items. This effort encourages sustainability and reduces plastic usage! The Pitt Pantry may have some bags on hand if you forget, but they aren't guaranteed.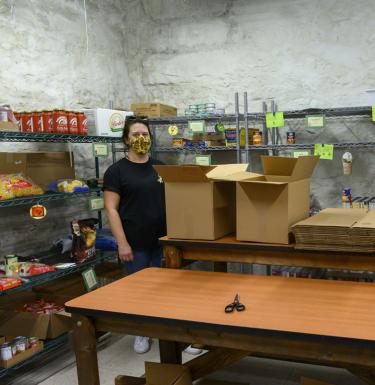 Individuals can walk in to shop for food and household items at no cost. Upon arrival, you will need to show your Pitt ID. During your first visit to the Pitt Pantry, a pantry volunteer will assist you in filling out the form for our visitor database. There are no sign-ups or appointment requirements to visit the Pitt Pantry. Shoppers may visit the Pitt Pantry up to twice a month. You may bring a maximum of one additional person to shop. After you finish choosing your items, alert a pantry volunteer and they will help weigh your items as we need the data to improve our service for the Pitt Community.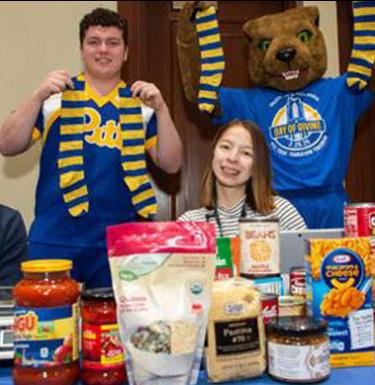 After your first visit, your data will be recorded in our database. You are not required to fill out a registration form for each subsequent visit. Our pantry volunteers will simply ask you for your name to properly record your pantry visit(s) for the month. Shoppers may shop through the Pitt Pantry up to twice a month. There is no limit to the number of visits to receive fresh produce.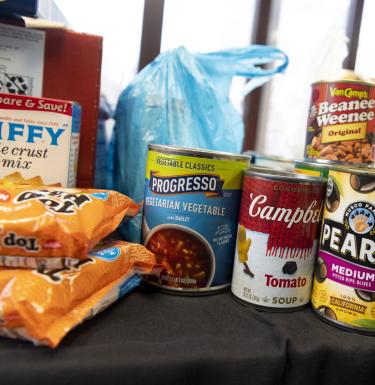 We understand people experience emergencies, and our hours of operation may not work for everyone. If you are unable to shop through the Pantry during normal business hours, please email us at pantry@pitt.edu. We may be able to coordinate a box pick-up or an alternative arrangement for you.